WBA LC LWR KIT Amp/Speaker Kit for Liquid Cooled Lowers Starting at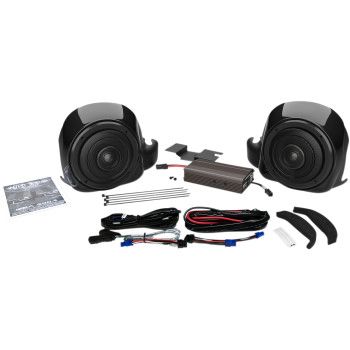 WBA LC LWR KIT Amp/Speaker Kit for Liquid Cooled Lowers Starting at
The perfect addition to add speakers to lowers on liquid cooled bikes
Easily added to existing Wild Boar Audio Ultra kits to create a 1200 watt 6 speaker system
can be used as an addition to a stock system to add lower speakers only
400 Watt 2 channel Class D amp bolts inside fairing using supplied plate
WBC1654 Rear speakers with Lower fairing Speaker Adaptors
Lower adaptor 'fronts" are gloss black to match inner fairing
Adaptors give easy access to coolant tank in brake side lower
Amp features R.E.M.I.T. for excellent FM reception from a Class D amp 
No corporate logos on speaker grills
100% Plug & Play
Complete with all required installation hardware
5 Year Warranty on speakers / 3 Year Warranty on amplifier.
Drag Specialties part # 4405-0533
Note: May require a OEM or Techno Research dealer radio software "re-flash"
Note: The WBA 400.2 amplifier is a Class D design. It should be understood that ALL Class D amplifiers, regardless of brand, cause a reduction in FM reception. The REV 225-AA features a proprietary circuit design called R.E.M.I.T. (Reduced Electro Magnetic Interference Technology) that Hogtunes believes gives the BEST FM reception available for any Class D Amplifier designed for a motorcycle. If you add a 2nd or 3rd model amplifier to your system, reduction of FM reception is increased and is considered normal.
Hogtunes understands that some riders prefer the cosmetics of in-fairing antennas, however it should be noted that NOTHING works as well as the factory antenna. If FM is an important part of your riding experience, we strongly advise against the use of any in fairing type antenna!
Reviews