CUSTOM DYNAMICS® LOW PROFILE LED TAILLIGHT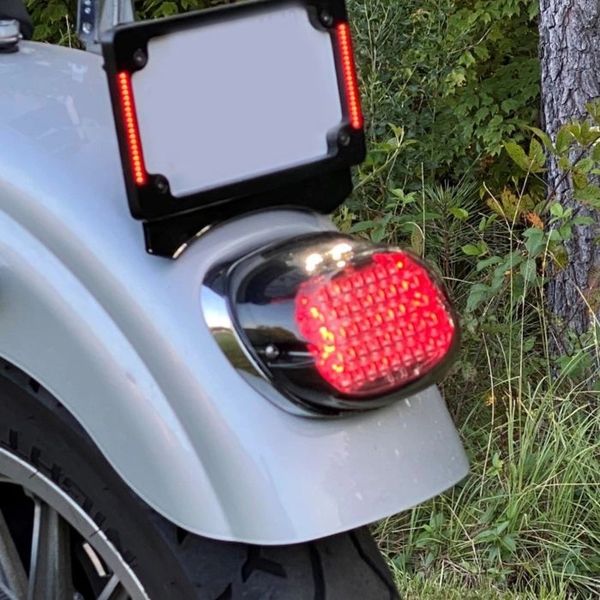 CUSTOM DYNAMICS® LOW PROFILE LED TAILLIGHT
CD-TL
CUSTOM DYNAMICS® LOW PROFILE LED TAILLIGHT
MOST COMPACT LOW-PROFILE LED TAILLIGHT DESIGN
Custom Dynamics® LED low-profile taillight offers 45 dual intensity red LEDs with a Red or Smoked lens and optional top license plate illumination window. A new spherical internal lens design magnifies the light output to produce a bright red running and brake light (preview) with DOT/SAE compliance and increased side visibility. Our most compact design yet protrudes only two inches from the stock taillight baseplate for a sleek, modern taillight solution for the rear fender. 
Replacement gasket and nylon washers included for easy plug and play installation into OEM taillight circuit board for most 1999-2020 Harley-Davidson® models (including TriGlide) equipped with a OEM Squareback Taillight. Replacement for OEM Part 68245-03. Note: Does not fit 2020 International TriGlide Models. Plug and play Taillight Adapter (sold separately) required for installation on US model 2020 Harley-Davidson® TriGlide CVO™ (FLHTCUTGSE).  
1999-earlier Harley-Davidson® models require a Pre-1999 Taillight Baseplate Kit to install.
Use in conjunction with Custom Dynamics® Magic Strobes™ Brake Light Flasher module to add full contrast brake flash or strobe patterns for even more visibility!
ProBEAM® Motorcycle LED Taillights also available with 5 running light pipes, full contrast brake light and built in amber turn signals. 
Reviews