GENESIS® 4 SOLID AMBER/WHITE (HALO FREE) LED MOTORCYCLE TURN SIGNAL INSERTS FOR CVO™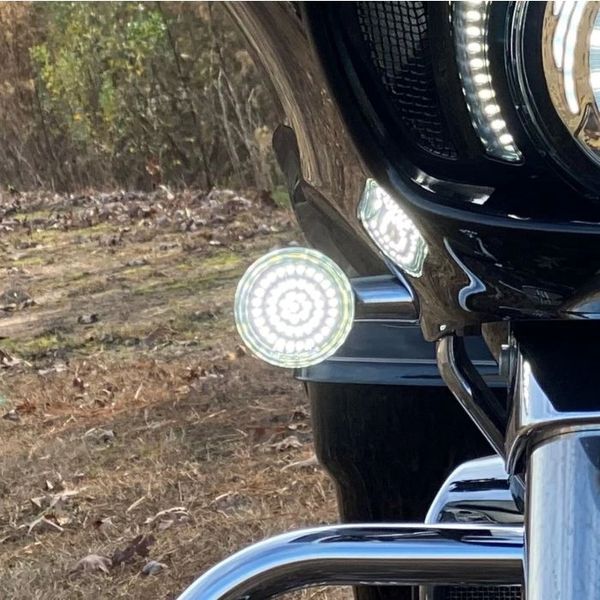 GENESIS® 4 SOLID AMBER/WHITE (HALO FREE) LED MOTORCYCLE TURN SIGNAL INSERTS FOR CVO™
GEN-4-AW-JAE
GENESIS® 4 SOLID AMBER/WHITE (HALO FREE) LED MOTORCYCLE TURN SIGNAL INSERTS FOR CVO™
FULL WHITE (HALO FREE) - FULL AMBER ILLUMINATION
Custom Dynamics® Genesis® 4 LED Turn Signals offer 48 super bright dual color LEDs producing the brightest full 6000K white running light (Halo Free) with full amber turn signal on the market. JAE pigtail connector for plug and play front turn signal applications on 2016-2020 Harley-Davidson® Street Glide CVO™ (FLHXSE), Limited CVO™ (FLHTKSE), 2016 Road Glide Ultra CVO™ (FLTRUSE), 2018-2019 Road Glide CVO™ (FLTRXSE), 2016-2017 Pro Street Breakout CVO™ (FXSE), & 2020 Tri Glide CVO™ (FLHTCUTGSE). 
Also offered for Harley-Davidson® Bullet Style turn signals with pop-off lens and for Harley-Davidson® Flat Style turn signals on models with turn signal lenses held on with 2 screws.  
As required by Federal Motor Vehicle Safety Standard FMVSS108, when turn signal is activated the white DRL turns completely off providing greater visibility to the amber turn signal. DOT Compliant when used with Custom Dynamics® smoked or clear motorcycle turn signal lens.
Custom Dynamics® smoked or clear motorcycle turn signal lens (sold separately) required for proper installation. OEM lenses are not compatible. Also compatible with Custom Dynamics® Bullet Bezel Turn Signal Adapters (sold separately).
Alternatively, ProBEAM LED Turn Signals are sold with lenses and offer a White Halo running light with Amber turn signal in the center. Or, shop Genesis® 4 Rear Motorcycle LED Turn Signals including Solid Red, Red Ring and Amber/Red Dynamic Clusters™!
Reviews