LOW PROFILE BAGZ™ LED SADDLEBAG LIGHTS FOR 2014-2020 HARLEY-DAVIDSON® BAGGER Starting at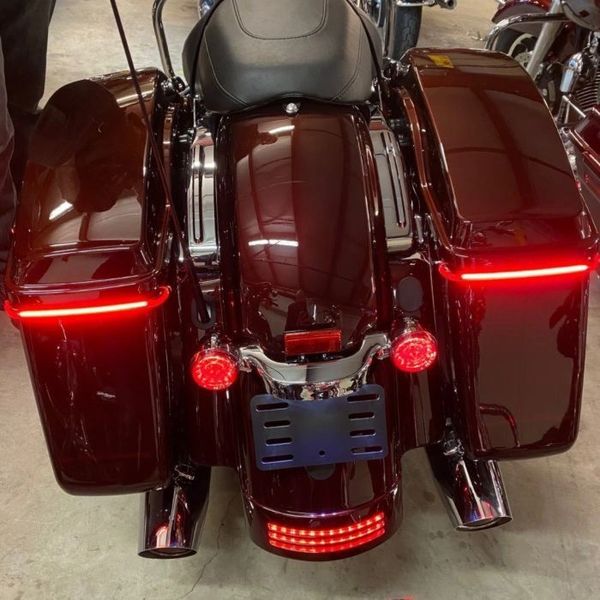 LOW PROFILE BAGZ™ LED SADDLEBAG LIGHTS FOR 2014-2020 HARLEY-DAVIDSON® BAGGER Starting at
CD-LP-BCM
LOW PROFILE BAGZ™ LED SADDLEBAG LIGHTS FOR 2014-2020 HARLEY-DAVIDSON® BAGGER
LOW PROFILE RUN/BRAKE/TURN LED SADDLE BAG LIGHTS
Low Profile BAGZ™ LED saddlebag lights are a slim designed LED light bar measuring only 7/16" thick to mount under the rear lip of the OEM Harley-Davidson® saddlebag lid. Units are molded to the OEM saddlebags for a perfect fit and adhear with double-sided tape with extended wire leads and in-line quick disconnect for easy removal of saddlebags. Plug and play wiring adapter is included to plug into the motorcycle's main wire harness under the seat with pigtails for the left and right saddlebag lights to connect. 
Fits 2014-2020 Harley-Davidson® Street Glide (FLHX), Street Glide Special (FLHXS), Road Glide (FLTRX), Road Glide Special (FLTRXS), Road Glide Ultra (FLTRU), Road Glide Limited (FLTRK), Ultra Classic (FLHTCU), Ultra Classic Low (FLHTCUL), Ultra Limited (FLHTK), Ultra Limited Low (FLHTKL), Road King Special (FLHRS), 2016 Road Glide Ultra CVO™ and 2016-2020 Limited CVO™
Standard Configuration offers dual intensity Red LEDs which function as a dim red running light with bright brake light and full contrast Red standard flash turn signal behind a red or smoked lens. 
Sequential Configuration offers an All-In-One solution with plug and play dim red running light, bright full intensity red brake light with sequential turn signal that blinks in sequence to the corresponding side when activated. Turn Signal LEDs are offered in either a Red sequential turn signal behind a red or smoked lens or Amber sequential turn signal behind a smoked lens.
Low Profile BAGZ™ are compatible with our Magic Strobes® Brake Light Flasher (sold separately). Low Profile BAGZ™ LED Saddlebag Lights also available with plug and play fitment for other Harley-Davidson bagger models.
Reviews