PROBEAM® BAGZ™ SADDLEBAG LIGHTS FOR 09-13 FLHXSE, FLTRXSE, FLHRSE Starting at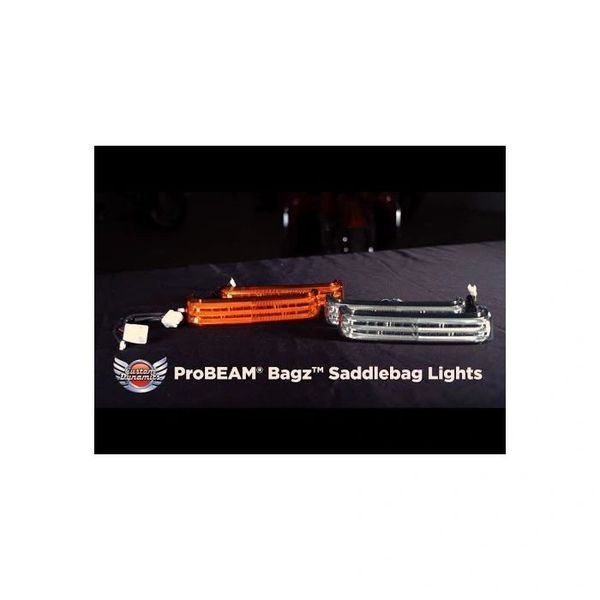 PROBEAM® BAGZ™ SADDLEBAG LIGHTS FOR 09-13 FLHXSE, FLTRXSE, FLHRSE Starting at
PB-SB-SS8
PROBEAM® BAGZ™ SADDLEBAG LIGHTS FOR 09-13 FLHXSE, FLTRXSE, FLHRSE
MODERN LED SADDLE BAG LIGHTS
ProBEAM® BAGZ™ add on saddle bag lights adhere under the lip of the saddle bag lid on Harley-Davidson® OEM hard saddle bags. Engineered from the ground up using the highest-quality automotive-grade LEDs and modern light pipe design. Each unit has 3 light pipes that illuminate across the bag with 24 separate LEDs to provide a full contrast brake light or brake/sequential turn signal (depending on configuration). Available with choice of chrome or gloss black housing with a smoked or red lens. Chrome BAGZ™ have a chrome reflector, black BAGZ™ utilize a black reflector. BAGZ™ come with plug and play IP67 rated weatherproof quick disconnect to make future removal of saddle bags quick and easy. Lifetime Warranty Against LED Failure.
Fits 2009-2013 Harley-Davidson® CVO™ Street Glide (FLHXSE) and CVO™ Road Glide Custom (FLTRXSE), 2013 CVO™ Road King (FLHRSE).
Standard ProBEAM Saddlebag Lights offer plug & play configuration for Run/Brake functions.
Sequential ProBEAM Saddlebag Lights offer plug & play configuration for Run, Brake & Sequential Red Turn Signal functions. 
To discuss additional adapters or modifications needed to alter the plug and play functions of a Custom Dynamics® lighting product please contact our Technical Support Team.
ProBEAM® BAGZ™ are compatible with our Magic Strobes® Brake Light Flasher  to maximize visibility with 10 user selectable brake flash or strobe patterns (sold separately).
Additional BAGZ™ Fitments also available for 1997-2013 Harley-Davidson® Touring Models, 2014-2020 Harley-Davidson® Touring Models, and 2010-2013 Street Glide and Road Glide Custom models.
US Patents: D875977, D876,691 China Patent: ZL201 930037082.0
Reviews