PROBEAM® BAGZ™ SADDLEBAG LIGHTS FOR 2014-2020 H-D™ TOURING MODELS Starting at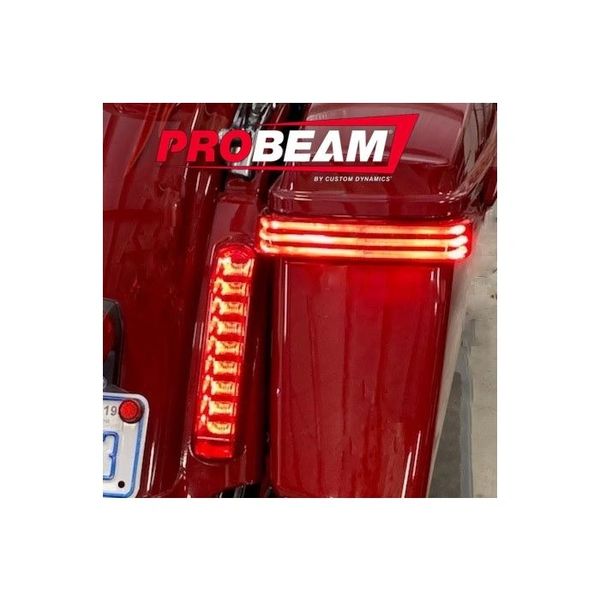 PROBEAM® BAGZ™ SADDLEBAG LIGHTS FOR 2014-2020 H-D™ TOURING MODELS Starting at
PB-SB-BCM
PROBEAM® BAGZ™ SADDLEBAG LIGHTS FOR 2014-2020 H-D™ TOURING MODELS
MODERN DUAL INTENSITY SADDLE BAG LIGHTS
ProBEAM® BAGZ™ add on saddle bag lights adhere under the lip of the saddle bag lid on Harley-Davidson® OEM hard saddle bags. Engineered from the ground up using the highest-quality automotive-grade LEDs and modern light pipe design. Each unit has 3 light pipes that illuminate across the bag with 24 separate LEDs to provide a full contrast brake light with standard or sequential turn signal (depending on configuration). Available with choice of chrome or gloss black housing with a smoked or red lens. Chrome BAGZ™ have a chrome reflector, black BAGZ™ utilize a black reflector. BAGZ™ come with plug and play IP67 rated weatherproof quick disconnect to make future removal of saddle bags quick and easy. Lifetime Warranty Against LED Failure.
Fits 2014-2020 Harley-Davidson® Street Glide (FLHX), Street Glide Special (FLHXS), Road Glide (FLTRX), Road Glide Special (FLTRXS), Road Glide Limited (FLTRK), Road Glide Ultra (FLTRU, Ultra Classic (FLHTCU), Ultra Classic Low (FLHTCUL), Ultra Limited (FLHTK), Ultra Limited Low (FLHTKL), Ultra Limited CVO (FLHTKSE) and Road King Special (FLHRS).
Standard ProBEAM Saddlebag Lights offer plug & play configuration for Run, Brake & Standard Turn functions.
Sequential ProBEAM Saddlebag Lights offer plug & play configuration for Run, Brake & Sequential Red Turn Signal functions. 
ProBEAM® BAGZ™ are compatible with our Magic Strobes® Brake Light Flasher  to maximize visibility with 10 user selectable brake flash or strobe patterns (sold separately).
Use ProBEAM® BCM4 BAGZ™ Saddlebag Lights for 2014-2020 Road King Standard, 2014-2015 CVO™ Limited, and 2015 CVO™ Road Glide Ultra. 2014 CVO™ Road King, 2015-2020 CVO™ Street Glide, 2016-2019 CVO™ Road Glide and 2019-2020 Electra Glide Standard (FLHT).
Additional BAGZ™ Fitments also available for 1997-2013 Harley-Davidson® Touring Models, 2010-2013 Street Glide and Road Glide Custom, and 2009-2013 CVO™ Street Glide, Road Glide, and Road King models.
US Patents: D875977, D876,691 China Patent: ZL201 930037082.0
Reviews