PROBEAM® CVO™ BULLET BEZEL DYNAMIC RINGZ™ LED TURN SIGNALS FOR 2016-2020 H-D™ CVO™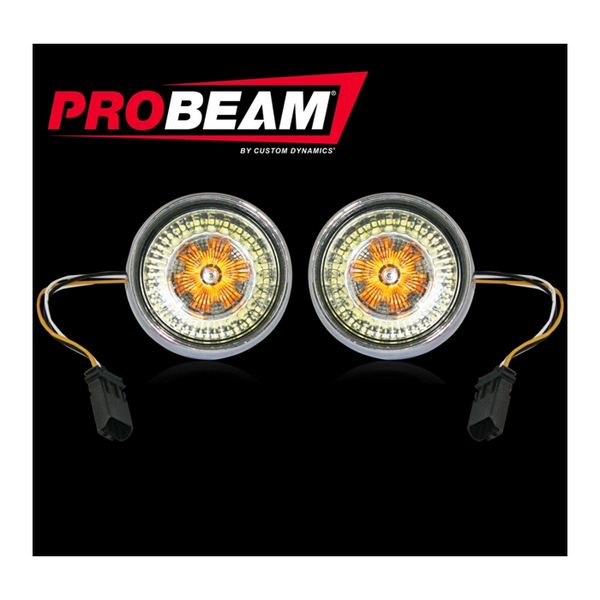 PROBEAM® CVO™ BULLET BEZEL DYNAMIC RINGZ™ LED TURN SIGNALS FOR 2016-2020 H-D™ CVO™
PB-BB-AW-JAE
PROBEAM® CVO™ BULLET BEZEL DYNAMIC RINGZ™ LED TURN SIGNALS FOR 2016-2020 H-D™ CVO™
PREMIUM PLUG & PLAY BULLET BEZEL LED JAE FRONT TURN SIGNALS FOR CVO™
Utilizing advanced LED technology, the ProBEAM® LED turn signals maximize performance with a unique reflector technology and automotive grade LEDs composed into a sealed unit for superior reliability. Building upon our famous Dynamic Ringz™, ProBEAM® turn signals utilize automotive grade LEDs to produce an even brighter light output with wider viewing angle. The outer ring of 24 white ProBEAM® LEDs showcase a smooth 6000K white halo that functions as the running light while 12 center amber LEDs function as the turn signal. When a turn signal is activated the White LEDs turn completely off for the entire turn signal cycle providing greater visibility to the amber turn signal.
ProBEAM® Bullet Bezel Dynamic Ringz™ LED Turn Signals include ProBEAM® Amber/White Dynamic Ringz™ Inserts with choice of Chrome or Gloss Black  ProBEAM® Bullet Bezel Turn Signal Adapters with built in DOT and SAE compliant smoked lens. 
Plug & Play 2016-2020 Harley-Davidson® Street Glide CVO™ (FLHXSE), Limited CVO™ (FLHTKSE), 2016 Road Glide Ultra CVO™ (FLTRUSE), 2018-2019 Road Glide CVO™ (FLTRXSE), 2016-2017 Pro Street Breakout CVO™ (FXSE) & 2020 Tri Glide CVO™ (FLHTCUTGSE).
ProBEAM® Amber/White Dynamic Ringz™ also available for non-CVO™ models with 1157 front turn signals and International (HDI) models. Additional ProBEAM® Turn Signal Accessories available to convert ProBEAM® turn signals for additional fitments and styles. 
Replacement for OEM Parts 61800257, 67800251
US Patents: D830,597 D830,595
Chinese Patents ZL201830045649.4, ZL201830045624.4
Reviews