PROBEAM® DUAL INTENSITY LED TRIBAR FOR 2014-2020 STREET GLIDE®, ROAD GLIDE® & ROAD KING® SPECIAL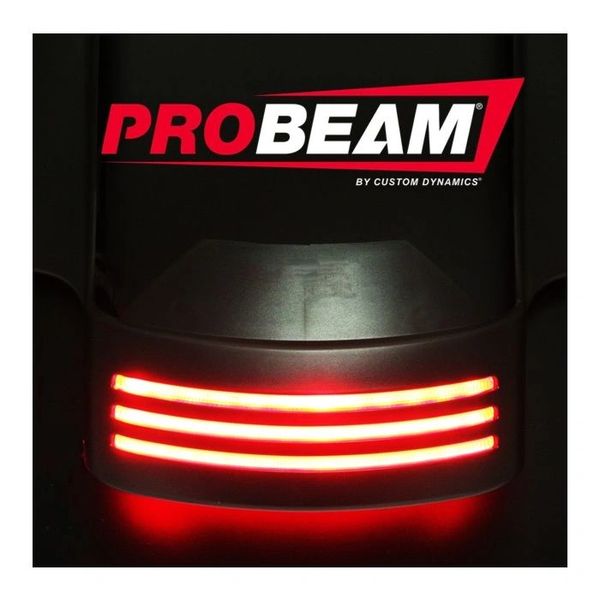 PROBEAM® DUAL INTENSITY LED TRIBAR FOR 2014-2020 STREET GLIDE®, ROAD GLIDE® & ROAD KING® SPECIAL
PB-TRI-3
PROBEAM® DUAL INTENSITY LED TRIBAR FOR 2014-2020 STREET GLIDE®, ROAD GLIDE® & ROAD KING® SPECIAL
DUAL INTENSITY RUN & BRAKE TRIBAR
ProBEAM® LED TriBar has been engineered from the ground up using the highest quality automotive LEDs and modern light pipe design! Custom Dynamics® premium line of aftermarket LED TriBar running & brake light now provides increased side visibility to maximize safety through modern technology for Harley-Davidson® motorcycles. ProBEAM® LEDs illuminate a constant on running light and provide a full intensity brake light.
Plug and Play on 2014-2020 US Model Harley-Davidson® Street Glide®, Street Glide® Special, Road Glide®, Road Glide® Special, and Road King® Special. Does Not Fit International (HDI) or Canadian (CNA) Models
Custom Dynamics® ProBEAM® TriBar 1 available for 2006-2009 Street Glide®. 
Custom Dynamics® ProBEAM® TriBar 2 available for 2010-2013 Street Glide® and Road Glide® Custom
Use in conjunction with Custom Dynamics® Magic Strobes™ Brake Light Flasher to add 10 brake flash/strobe patterns for additional safety and visibility!
Replacement for OEM Part 59600008
Reviews