SEQUENTIAL LED WINDSHIELD TRIM FOR 2015-2020 ROAD GLIDE®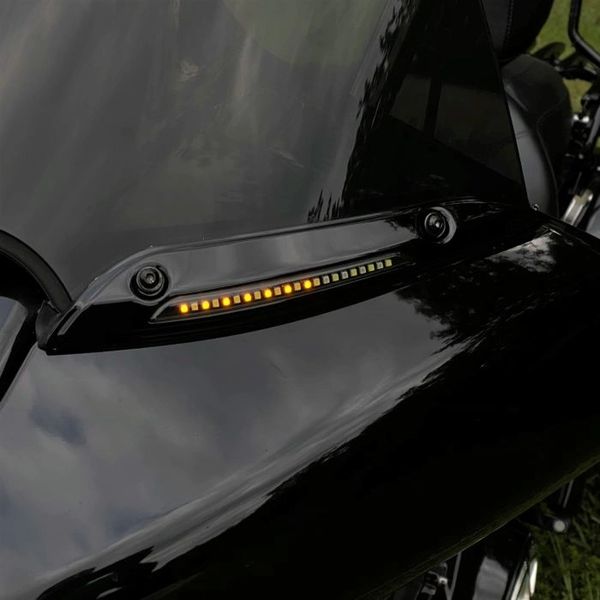 SEQUENTIAL LED WINDSHIELD TRIM FOR 2015-2020 ROAD GLIDE®
CD-RG-WT-SEQ
SEQUENTIAL LED WINDSHIELD TRIM FOR 2015-2020 ROAD GLIDE®
WHITE DRL WITH SEQUENTIAL AMBER TURN SIGNAL FLASH
Aluminum trim set with two banks of flush mounted Amber/White LEDs behind a smoked lens bolt on to the stock Harley-Davidson® Road Glide® fairing to increase forward and side visibility. White DRL LEDs are automatically deactivated when the turn signal lamp or hazard warning lamp is activated giving greater visibility to the Amber LED sequential turn signal flash.
When the turn signal is activated, the corresponding bank to either side will flash in a sequential direction indicating the turn signal. Alternatively, we also offer a Standard Turn Signal LED Road Glide® Fairing Windshield Trim for the turn signal to flash all at the same time instead. 
Unit bolts to top of the Harley-Davidson® shark nose fairing on 2015-2020 Harley-Davidson® Road Glide (FLTRX), Road Glide Special (FLTRXS), Road Glide Limited (FLTRK), Road Glide Ultra (FLTRU), CVO™ Road Glide (FLTRXSE), and CVO™ Road Glide Ultra (FLTRUSE) models using the same four windshield bolts with provided color matched hardware. Plug and Play harness included for effortless installation with no drilling or additional modules required. Available in Chrome or Gloss Black finish. Lifetime Warranty against LED failure. 
Note: These were designed and manufactured for H-D™ fairings. We cannot guarantee or confirm fitment on any other brand of fairing.
Note: Compatible with windshield bags. 
Reviews