Dakota Digital MLX-8414 (2014 and newer) Reservations starting at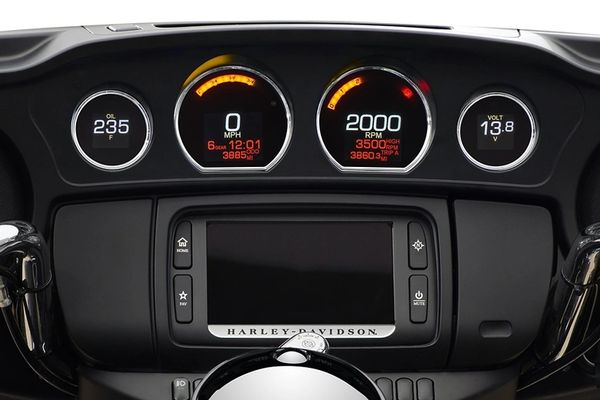 Dakota Digital MLX-8414 (2014 and newer) Reservations starting at
Direct plug-in digital instrumentation system for all 2014 and newer Harley Davidson Road Glide, Ultra Classic and CVO touring models. 
Dig into the 31 illumination colors; independently select colors for the main gauge reading, message center information, bar-graph readouts and gauge labels, or choose from 12 preset themes! The message centers below the main speed and tach readings offer plenty of information and can be configured to show just what the rider wants to see. Gauge display automatically dims for comfortable night time riding and brightens to a high contrast mode for excellent visibility, even in direct sunlight.
Speedometer can be calibrated for custom-gearing situations and allows the user to select MPH or km/H in the setup menu.
The two smaller gauges can be programed by the rider for their ideal layout; out of the box options include oil temperature, fuel level and voltage, while boost, air suspension pressure and compass heading can be had with the appropriate MBM upgrade modules!
To top it all off, the MLX-8414 features Bluetooth technology for the available mobile app for both Android and Apple iOS devices. Continently access the setup and customization preferences with your smart phone or tablet!
MLX-8414 utilizes the stock chrome trim rings from the OEM gauges.
250MPH (400km/h) Speedometer
Tachometer with additional bar graph that wraps around the crown of the gauge
Oil Temperature (sender included)
Volts
Fuel Level wraps around the crown of the Speedometer
Gear Position
Clock
Odometer
A & B Trip meters
Service Meter (miles until next service)
Tire pressure monitoring on factory-equipped models
Performance Meters
1/4 mile Speed and Time
0-60 time
High Speed and RPM recall
Indicators:
Turn Signals, High Beam, Cruise Control on/engaged, Check Engine, Security, ABS with Reverse and Parking Brake available for Tri-Glide applications
Reviews