MLX-2000 Series Starting at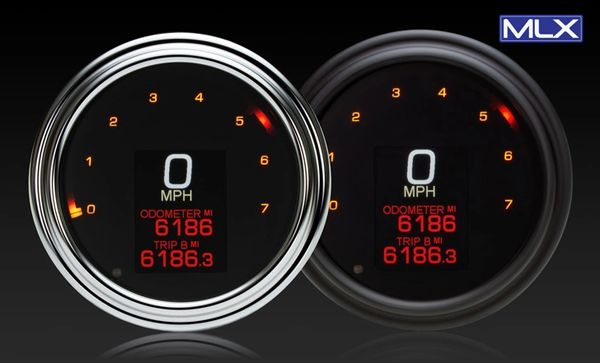 MLX-2000 Series Starting at
The MLX-2000 series instruments fit stock 4 ½- 5" Fat Bob tank dashes found on Road King, Softail and various Dyna models with the large, tank-mounted speedometer. 
Choose from a black or chrome bezel to start, then dig into the 31 illumination colors; independently select colors for speed reading, message center information, bar-graph readouts and gauge labels, or choose from 12 preset themes! The message center below the main speed reading offers plenty of information and can be configured to show just what the rider wants to see. Gauge display automatically dims for comfortable night time riding and brightens to a high contrast mode for excellent visibility, even in direct sunlight.
Speedometer can be calibrated for custom-gearing situations and allows the user to select MPH or km/H in the setup menu.
To top it all off, the MLX-2000 series features Bluetooth technology for the available mobile app for both Android and Apple iOS devices. Continently access the setup and customization preferences with your smart phone or tablet!
250 MPH (400km/h) speedometer 
Wrap around tachometer with adjustable shift point, can also display in digital numeric readout
Odometer with two resettable trip odometers.
Miles to service (user settable countdown) 
Hourmeter.
Clock (12 hour format)
Voltage readout with low voltage alert
Cylinder head temp (requires factory sender)
Oil pressure sender sold separately (SEN-1039)
Oil Temperature sender sold separately (SEN-1043, SEN-1044)
Gear position indicator compatible with 4- 7 speed transmissions
Standard indicators: turn signal, high beam, neutral, low oil pressure, low voltage, check engine/wait to start
Available indicators for properly-equipped bikes: Cruise on/cruise engaged (MLX-2004 & 2011 only), ABS, and Security
Reverse and Traction Control on Freewheeler models only.
Fuel Level on 2018 - newer if factory equipped.
Automatic turn signal canceling compatible
Performance calculations include: 0- 60 time, high speed & high RPM recall, 1/4 mile time and speed
Machined aluminum housing and bezel
Choose from chrome or black bezel with non-glare scratch resistant lens
Additional gauges that can be added to the MLX Series by use of the Dakota Digital MBM expansion modules are:
Air Suspension Pressure (single or dual readings)
MBM-19 - Includes 1 sender. Additional sender SEN-1901 sold seperate.
Boost
MBM-09 - Sender included.
GPS-Powered Compass
MBM-17
Have a Police model or bike without air temp? Add the Ambient Air Temperature sender SEN-1701 (sold separately) to the MBM-17
Made in the USA and backed by a two year warranty!
2003 and earlier applications as well as custom built motorcycles, use MLX-2000.
2004-2013 (except 2011 and newer Softail and 2012-newer Dyna) models use MLX-2004
2011-newer Softail, 2012-newer Dyna,  2014- newer Road King,  and 2015- newer Freewheeler models require MLX-2011
2007-2009 Softail CVO Convertible (will not work work on 2010-2012 Softail CVO Convertible)
Case diameter measures 4-1/4", bezel diameter of 4-5/8"
Dakota Digital Instrument systems are shipped from the factory with "0" miles on the odometer. Odometer can be set by the installer multiple times within the first 100 miles of driving. In the event of an error or oversight, the odometer reading can be corrected at the factory for a charge of $20. Please contact Dakota Digital to arrange this service.
Reviews